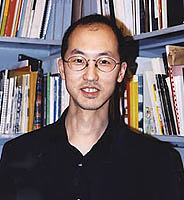 Tonight was the last night of the
experimental text event
at Sir Richard Foreman's ontological theater thing at St Marx. I had planned on attending, but the event was sold out. So in memoriam of my feelings I decided to go on a Tan Lin binge. I read a significant chunk of his superb
Blipsoak01
, number 18 in the Atelos series. I love huge poetry books (like Bruce Andrews
I Don't Have Any Paper So Shut Up
) & this one is very much that--over 330 pages. The layout is excellent, like nothing I've ever seen: for the most part, the work is in couplet form, but frequently the long lines carry over
to the next page
instead of dropping down, a solution I've never encountered before, which makes for immense expanses of white space on the odd-numbered pages, opposite the near-uniform couplets of the even-numbered pages. As a soon-to-be publisher, I relished this choice throughout the duration of my reading. Lin prides himself on being bland & boring, but the result is usually quite beautiful, & utterly unique. Quite the paradox. His only earlier book was put out by Sun & Moon a long time ago, titled
Lotion Bullwhip Giraffe
. It is also a winner, & is worth tracking down even though it is somewhat rare & may cost $20 or more.
There are several of his works available online, most recently a diary/blog/poem piece in the May issue of
The Brooklyn Rail
. Like someone you don't love crapping in your hand while you sleep, the Rail folk have made it impossible to copy/paste the work & thus print it out. Shame on them for this trespass, given that my computer freezes up when I go to print out the page as it is. Printer-friendly work can be found
here
&
here
, from lingo magazine & the Boston Review respectively. Other work can be found in issues 35, 38, & 42 of Conjunctions. & there are a decent amount of audio files available on
Pennsound
, along with a couple interesting electronic works at
ubu
.
The real find to look out for is
Seven Controlled Vocabularies
(the name on the spine is
THE JOY OF COOKING)
, which is yet unreleased but is available from lulu.com. The book, described as [AIRPORT NOVEL MUSICAL POEM PAINTING THEORY FILM PHOTO HALLUCINATION LANDSCAPE] is a superintriguing read, as it seems like it might be incomplete, but it's hard to figure out if, or where, or how exactly this may be true. For example, the opening section is titled A Field Guide to American Painting w/ 13 plates, but the plates are not there. Later in the book there are all sorts of pictures & objects, many of them somewhat fascinating, as they interact with Lin's patented bland text in the same oddly beautiful yet hard-to-pin-down way that the text itself works. My favorite is a matchbook the inside of which reads
FISH BONES OR OTHER ACCIDENTAL
BONES ARE TAKEN BETWEEN
FINGER AND THUMB AND
REMOVED BETWEEN COMPRESSED
LIPS PITS AND SEEDS MUST BE
EATEN QUITE BARE AND CLEAN IN
THE MOUTH AND DROPPED INTO
THE CUPPED FIST AND THEN ONTO
THE PLATE THE PITS OF STEWED
PRUNES OR CHERRIES THAT ARE
EATEN WITH A SPOON ARE MADE
AS CLEAN AS POSSIBLE IN THE
MOUTH (WITH THE TONGUE AND
TEETH) AND THEN DROPPED INTO
THE SPOON WITH WHICH YOU ARE
EATING AND CONVEYED TO THE
EDGE OF THE PLATE BUT IT IS
HORRID TO SEE ANYONE SPIT
SKINS OR PITS INTO A SPOON OR
INTO THE PLATE UNLESS REALLY
DRY AND WITH LIPS COMPRESSED



Indeed. How does this bit of goodness relate to the adjacent text, which is mostly about a run-down Mercedes? I have no idea, but I'm enjoying myself, so I'll happily continue. Which is sortof how the mechanisms of Tan Lin's works work, eschewing the flashy for something so consistent & sneaky, the reader would be hard pressed to illuminate or explicate the text, yet the reading experience is as pleasant as any around. For those who think that Tan Lin's 2 officially available books are far too few, this print-on-demand edition of what appears to be a nearly (or mostly) complete work-in-progress is an under-the-radar delight.